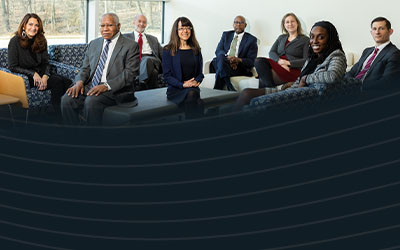 Academics
The WilmU Juris Doctor (J.D.)
Wilmington University School of Law offers a structured yet flexible curriculum to teach the essential skills and theory we believe all lawyers should know. By requiring the first two years of courses, including three semesters of legal research and writing, all students will learn to read, write, think, and analyze like a lawyer.
Our curricular design ensures student access to all bar-tested subjects. This eliminates the stress of choosing between bar-tested subjects or interesting electives. The third year is dedicated to students' exploration of specific areas of the law through electives, expansion of their knowledge on the Delaware bar exam subjects, and experience of different types of legal work through externships. Electives will be taught by practitioners who are experts. This also provides students with a greater connection to the Delaware legal community and beyond.
The WilmU J.D.
86 credits
3 program options
$838 per credit
Required Courses
First-year courses
(29 credits)
Civil Procedure (4)
Constitutional Law I (4)
Contracts I (3)
Contracts II (2)
Criminal Law (3)
Legal Writing I (3)
Legal Writing II (2)
Property (4)
Torts (4)
Upper-level courses
(38 credits)
Advanced Legal Analysis (3)
Agency & Partnership (2)
Constitutional Criminal Procedure (3)
Constitutional Law II (2)
Corporations (3)
Evidence (3)
Experiential Learning (6)
Family Law (3)
Federal Income Tax (3)
Professional Responsibility (3)
Sales and Leases (2)
Trusts and Estates (3)
Scholarly Writing [Journal or Seminar] (2)
Elective courses
(19 credits)
Students will be able to explore subjects of interest, gain practical skills through experiential learning opportunities, delve into Delaware-specific topics in the legal profession, and more through the elective curriculum. Students may take up to 15 credits of externship coursework.
We're ready to help you get started!
Ask a question, start a conversation about a program, inquire about schedules or financing your legal education-whatever you need, we're here for you.