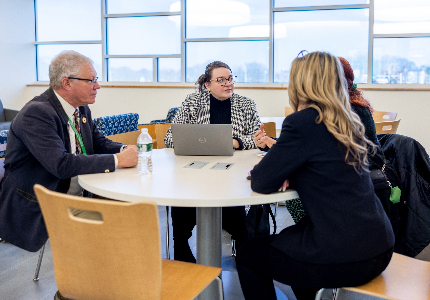 Career Services and Externships
Career Services and Externships are integral to your professional development during your time in law school and beyond. Our Office of Professional Development brings together career services and experiential education to position you for success. We assist you with exploring and obtaining opportunities, evaluating experiences, making connections, and accomplishing your goals. Whether you wish to practice in Delaware, the surrounding area, or have an interest in other parts of the country, we help you get there!
For Law Students
WilmU Law provides you with a solid legal foundation, connections within the legal community, and opportunities to explore environments for making an impact using your law degree.
Planning your career includes assessing your interests, developing your skills, exploring legal environments, and building a career development plan. Our office connects you with local and regional communities where you will participate in pro bono legal opportunities alongside practicing attorneys, attend meetings and educational sessions, volunteer, enroll in courses, and obtain paid employment to gain legal experience and build your network.
We are invested in your journey and want to learn more about you! Stop by our office for a quick conversation or schedule a longer meeting in person or virtually. To do so, just reach out through the phone number or email link below.
Learn More About Our Externship Program
For Employers
Our team is excited to partner with you in connecting WilmU Law students seeking volunteering, mentoring, employment and externship opportunities.
If you would like to become involved with our innovative approach to legal education and participate as a panelist, mentor, host for summer volunteer experiences, or externship supervisor, please contact us.